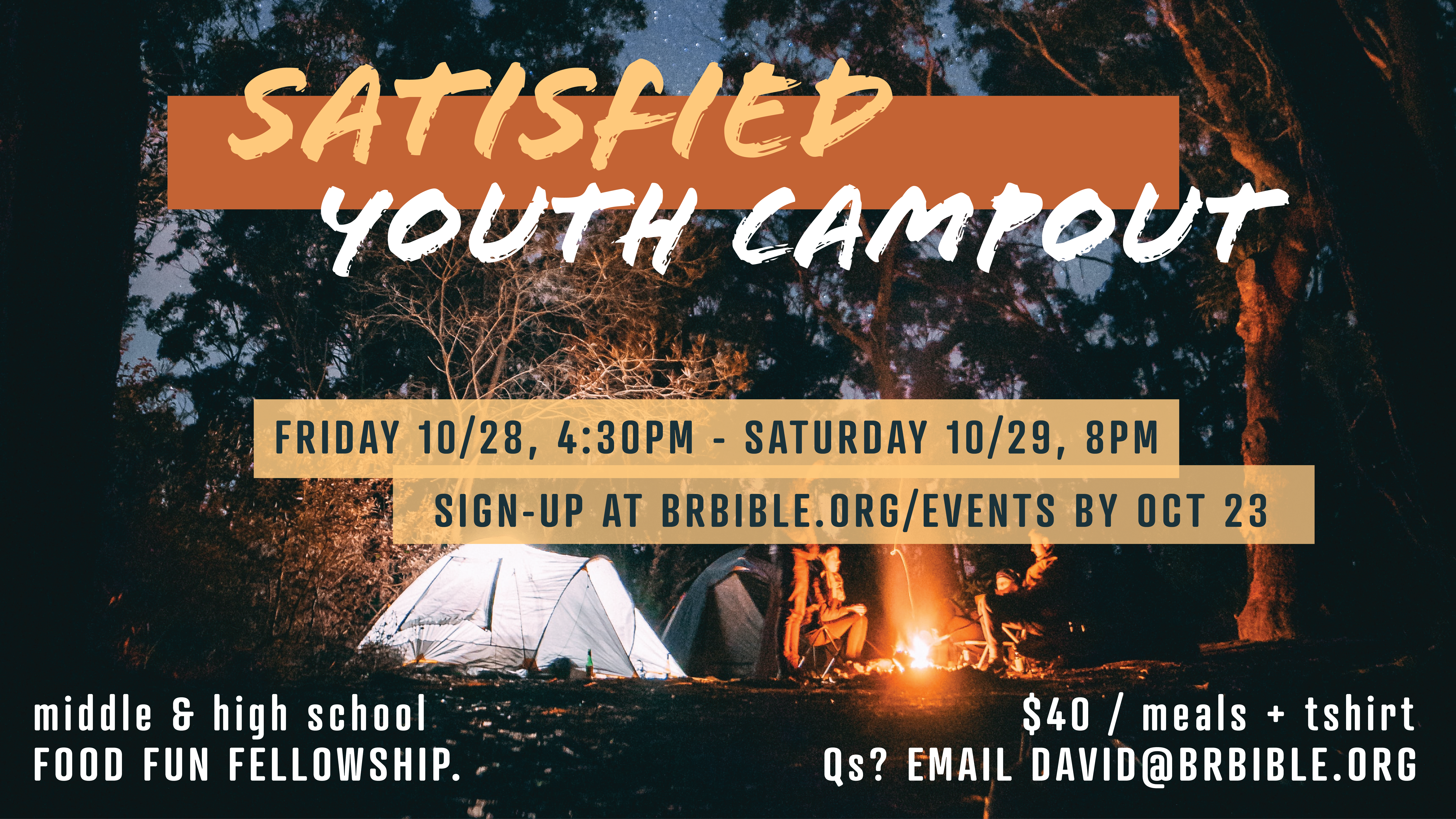 "Satisfied" Youth Campout
Good food. Good friends and fellowship. Good fun! 
THEME: Satisfied in God
Every year Israel was commanded to celebrate and remember God's faithfulness in delivering them from Egypt. God delivered them and He provided DAILY their physical needs as they wandered in the wilderness on their way to the Promised Land. This festival was called the Feast of Booths (or Tabernacles, see Leviticus 23:40,42-43).
"And you shall take on the first day the fruit of splendid trees, branches of palm trees and boughs of leafy trees and willows of the brook, and you shall rejoice before the LORD your God seven days…. You shall dwell in booths [sukkot] for seven days. All native Israelites shall dwell in booths, that your generations may know that I made the people of Israel dwell in booths when I brought them out of the land of Egypt: I am the LORD your God." (vv. 40, 42-43)
An overnight campout is not the same thing as celebrating the feast of booths … but we will spend time eating some great food and enjoy each other's company, with some great games and adventure! We will also remember God's power to DELIVER us from sin, to PROVIDE our daily needs, and to GIVE HOPE for the permanent home in heaven He is getting ready for those who have put their faith in Him. Lesson-time will primarily consist of BRBC adults sharing testimonies of God's work! 
COST: $40
Trying to keep this low! Cost includes a sweet long-sleeve t-shirt that you'll appreciate the rest of the fall/winter. Then you can cut the sleeves off in the summer before you sew them back on for another fall/winter (it's very versatile). It also includes the best camp food ever and some other stuff to make the weekend magical! 
Other Details: The campout will be a packed two days! Campout will be held on Bill & Linda Parker's property in Philomont. We will be camping in tents, but are able to retreat to an enclosed barn for lessons and worship (and we can set tents up there if it rains). Guys and girls will be in separate "campsites" and will have access to running water and bathrooms. This event is for both middle schoolers and high schoolers. The campout will kick-off on Friday/Oct 28 at 4:30pm and pick-up will be Saturday/Oct 29 at 8pm.