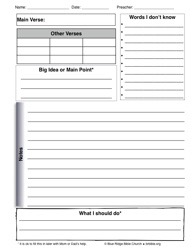 Here is a simple form you can download and use with your kids for Sunday. Help them learn to listen and take notes and use it as a simple family devotional approach to refresh the whole family on what was taught in the sermon. Download a pdf file here or pick up a pre-whole punched copy from the foyer.
Click the thumbnail on the left to download a pdf version of this form.
Read below for how the form was created and ideas for how you can incorporate this with your children.

---
By Rich Shipe
I was recently inspired by an article I read by a well-known pastor and his wife on parenting and the Sunday morning church service. In the article, they shared a vision for making the Sunday morning service meaningful for children rather than just an experience to be endured. They gave many practical tips to help parents mentor their children into a richer understanding of the service.
One of the ideas they shared was for parents to encourage their children to take notes during the sermon.  My first thought was how hard this would be for my kids  (who are ages seven, nine, and ten) because it's hard enough for me! But I decided to give it a try. I gave them some basic instructions and encouragement and we tried it out.
The first Sunday of note taking was a little rough. I had to remind them a few times to keep it up during the sermon, and they had trouble knowing what to write. Like I said, note‐taking isn't easy. But one thing I did notice was that for the most part, they were paying attention during the whole sermon.  It felt like a small but significant step forward.
The next thing I did that really helped was create a one-page, note-taking form for them to use. The form  includes boxes that hopefully get them thinking about what to look for in the sermon. The boxes give  them  special places to write down the main verse, other verses, big  idea or main point, what I should do, words I don't know, and extra lines for additional notes.
As an Easter gift to our kids, Christy made them each a decorated three-ring binder in which they can keep their sermon notes. They loved the binders and are excited about writing down things on the form each week.
We've been using this form for a couple months now, and I've been really impressed with the results. It is incredible to me how quickly they've been able to learn this skill and how much they are able to write down. The other significant thing is they are doing their best to pay attention to the sermon now. Some weeks are better than others, and sometimes they give up or get frustrated, but we've found that they are really growing in it and making progress. They are learning important life skills in listening and note taking, and I want to deliberately help them grow in these areas.
Another great benefit we've found from the note taking is it gives us an opportunity to talk about the sermon as a family. At dinner on Mondays, we all get out our notes and walk through the sermon. Christy and I help the kids fill in parts that they missed, and we explain the parts that were hard for them to understand. This also reinforces the big ideas for Christy and me too!
In the May newsletter, Jack talked about worship "preflight" and how important it is to get ready in advance to worship. That pre-worship preparation is important for success in teaching your children to take notes.
Ultimately, our family goal is to teach our children about the incredible value of worship and learning in a community of believers. As a parent, I also need to teach my kids through my actions about the exciting opportunity we  have  on  Sunday mornings  to  corporately worship our God and Savior. My kids need to see me truly excited about worshiping God in order to fully incorporate this lesson into their lives.