Mexico:
Mike & Pam Richardson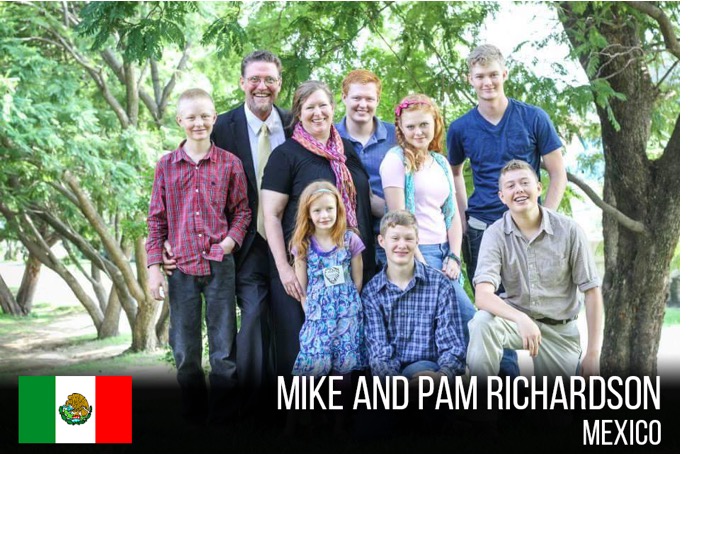 The Richardsons are long-time BRBC-supported missionaries.
Mike pastors a local church; La Iglesia de Baratillo; as part of a mission effort under the auspices of Vida Nueva Ministries. The ministry is diverse and includes discipleship of their local church body; homeschool seminars; and publishing a Spanish language homeschooling magazine.
The Richardsons were called to Mexico in 1994 and BRBC began supporting them shortly thereafter. Their passion is to evangelize and disciple in Spanish-speaking countries. They live in Arteaga; a very rural and rustic mountainous area of Mexico. It is a few hours drive from McAllen; TX; where they get their mail.
If you would like to support Mike and Pam separately from BRBC's regular budgeted giving; you may donate online at Vida Nueva Ministries
MISSIONARY UPDATE:
To the BRBC Congregation:
Over the past few weeks, a fire has raged on the mountain in Mexico where our missionaries – Mike and Pam Richardson – have their home and church causing great damage.    As you know, the Richardsons have already been under intense pressure regarding serious health issues and now the damage arising from the recent fire.  While their home was saved much of the surrounding infrastructure for their ministry has been destroyed.   Please see below an excerpt from Mike's recent update to BRBC concerning their needs and where donations can be sent, if desired.  Please pray for Mike and Pam as they work to make these necessary repairs and resume the important work of their ministry in rural Mexico.
BRBC World Missions Committee
"After 18 days, we praise God the fire is under control. The wildfires ravaged four mountains, across 34 miles and more than 35,000 acres. At least 19 houses were severely damaged right in the Richardson's area, plus dozens more further down the valley.
Now that the fire is under control, the work begins!  There was much devastation. The Richardsons and Garcias lost the water pipes that carried water from the spring to their homes and the church. This was due to the bulldozers creating fire breaks. Replacing over a mile of water pipe will be a priority, so they can get water to the houses and the church.  Over two acres around the Richardson home and the family camp were completely cleared and plowed. It will need to be leveled, have irrigation installed, and seeded or the topsoil will be washed away and the land will be ruined. And of course, there are others who will need help. The ministry will need wisdom to know where to best invest the money the Lord provides.
 In addition to helping restore normality to this area, once the water has been restored to all the houses, we hope to resume work on the church at San Juan.
There will be financial needs as we work to restore the damage from the fire. If you feel led to help us with this need, you can donate through this here https://secure.egsnetwork.com/donate/60F798428E8E43A
Mike and Pam Richardson
San Juan, Mexico
April 5, 2021"