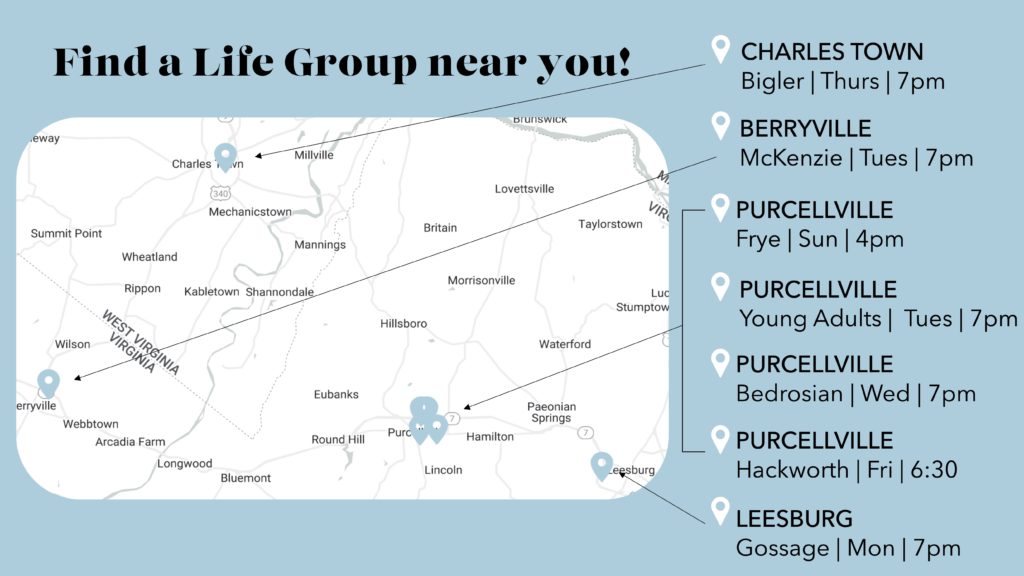 10-week sessions run fall, winter, and spring. More info is available by searching for a life group in Blue Ridge Connect or on the church app.  
LOCATIONS & TIMES – Spring 2023 Session (Mar 12 – May 27; on break weeks of 4/2 & 4/9)
PURCELLVILLE: Sundays @ 4pm* (Frye)
LEESBURG: Mondays @ 7pm* (Gossage)
PURCELLVILLE (Young Adults): Tuesdays @ 7:00pm 
BERRYVILLE: Tuesdays @ 7pm* (McKenzie)
PURCELLVILLE: Wednesdays @ 7pm (Bedrosian)
CHARLES TOWN: Thursdays @ 7pm* (Bigler)
PURCELLVILLE: Fridays @ 6:30pm (Hackworth)

* Group provides childcare
Contact Josh Johns or the Church office for more information & to get connected!
Join a group to know and be known at BRBC!