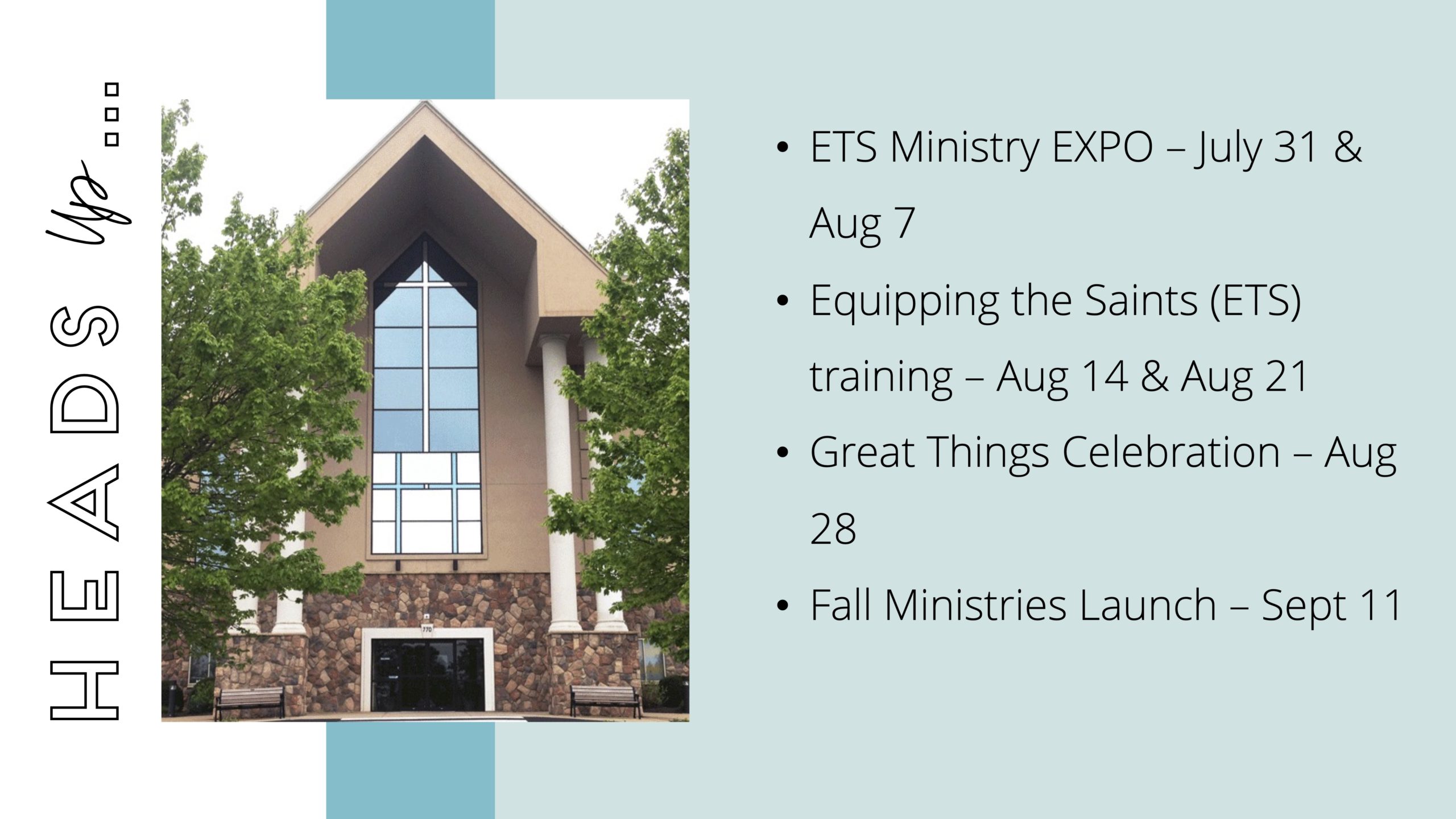 Fall 2022 Heads Up
Just a heads-up …
Here are our annual events in August and September, launching us into our new ministry year! Mark your calendar and stay tuned for registrations and more details. As always, the best ways to stay up to date are via the church app (click the Events tile) or by going to brbible.org/events.
ETS Ministry Expo – Jul 31 & Aug 7
Our ministry expo is designed to allow you to find your place, or continue, to serve here at BRBC! You have two identical opportunities in case you're on vacation one of these Sundays. Immediately following the service on 7/31 or 8/7, booths for all 13 ministries below will be available so you can gather details, learn where you can serve, and connect with the ministry leader.
The ultimate goal of the Expo is to serve in a ministry and to be effectively trained for ministry. Good news! ETS Training is happening the two weeks immediately after the Expo—so after you check out the booths, be sure to sign up on the app or at brbible.org/events for ETS Training on Aug 14 and/or 21. (Ministries marked with an asterisk below require participation at ETS Training for all new or returning volunteers.)
Life Groups (leaders participate in training*)
Children's ministry*
Youth ministry*
Awana*
Worship Arts*
Sunday Hospitality: Coffee bar team*
Sunday Hospitality: Kids Checkin team*
Sunday Hospitality: Security team*
Sunday Hospitality: Welcome Team*
Women's ministry
Men's ministry
Community Care Team
World Missions committee
Equipping the Saints (ETS) Training for ministries – Aug 14 and/or Aug 21
This is our training for ALL volunteers!
Are you new to serving at BRBC?
Are you rejoining your service team? Or making a switch?
Then be sure to sign up for training on the Sunday evening most convenient to you. (Check back for signup starting 7/21.) We'll enjoy dinner together, childcare is provided for ease, and then get motivated and equipped for your role here at BRBC.
Two evenings with identical training are offered to help accommodate your schedule. Or, if you are serving in two ministries, attend both weeks and be trained for each ministry. Sign up HERE
Great Things Celebration & church vote – Aug 28
Join us for a very special Sunday as we close out our church year! We want to pause to celebrate what God has done in and through BRBC this past year with worship and a ministry year-in-review. We will also commit the coming year to God. Plan now to join us to enjoy a delicious lunch together and church vote on leadership and how we will invest God's money toward kingdom building. More details and lunch signup HERE. Plan to come on Aug 8 to preview what we're voting on at Great Things:
On Monday/Aug 8, 6:00-7:30pm, we'll be under the tent hosting "Prayer and Praise & Knowing Where We're Going" (prayer, worship, testimonies from deacons and elders, and answering questions on the proposed budget).
Fall ministries launch – Sept 11
BRBC ministries kick back off for a new year on Sunday, September 11. Kids will be promoted up to the next grade and new RIDGE classes will begin for all ages (RIDGE = providing relevant instruction, doctrine, and guidance to equip believers for life)! Life Groups will meet in various locations around our community. Young adults will gather weekly. New studies will begin for our Women's and Men's groups. Youth Group will kick back off for weekly fun on Wednesdays. And our Awana program will begin its 26th year!