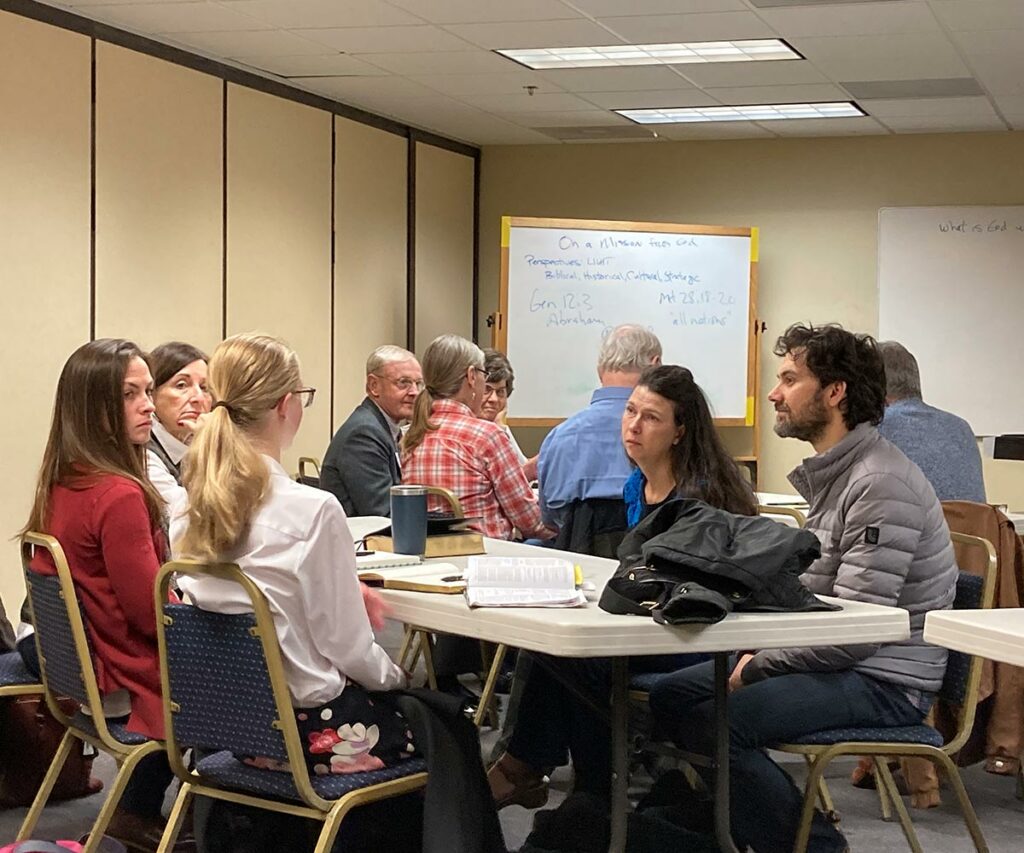 We value biblical instruction.
The Bible is the very written word of God, the final authority for our lives, sufficient to show us who He is and who we are to be. 2 Timothy 3:16-17; 2 Peter 1:20-21; Isaiah 40:8.
Join us for 50-minutes of in-depth Relevant Instruction, Doctrine, & Guidance to Equip Believers for Life–RIDGE classes–for adults, youth, and children down to 18 months.

JANUARY 8 - March 5, 2023
Facilitator: Dr. Jack Elwood
Dr. Jack Elwood (missionary, pastor, and mission executive) will help us discover the Biblical, historical, cultural, and strategic dimensions of God's mission to declare his glory among the nations. Come and find out what you never heard in Sunday School! Be warned: If personal peace and affluence are your highest values, you may find this class disturbing. For more, see Jack's sermon here from December 4.
The Stage of Truth: The Moment-by-Moment Impact of Salvation
Facilitators: Justin Boswell & Rob Hackworth
What does it really mean to be saved? Did you choose salvation, or did God choose it for you? Why was it necessary that Jesus, the eternal Son of God made flesh, had to die in order for you to be saved? What was accomplished by his death? And can a person's salvation be lost, like a precious piece of jewelry? In this winter Ridge class, let's talk all things salvation. We'll dig into the Scriptures and hear from prominent theologians. We'll explore both fact and theory, and help you come away with a deeper and broader understanding about God's greatest gift to mankind.
This class will continue our journey through the "Making Theology Accessible" program, around the stage of truth that Pastor Jack often references with us. Growing our understanding of theology makes a practical impact in our everyday lives. As we come to know God's character better, it motivates our love in response to Him and our love for others, as we want them to know Him too.
A safe, fun time of childcare with a rotation of BRBC teachers and helpers.
This class is going thru a rotation of ALL the main Bible stories, plus a fun play and singing time! Our amazing BRBC member Jodi Benedict will continue as your 4&5 year olds teacher.
These children will learn how all stories in the Bible point to ONE main story pointing to Jesus. Using the Jesus Storybook Bible curriculum, they'll see how "every story whispers his name." Our amazing BRBC members Chris & Nellie Elliott will continue as your 1st-3rd grader teaching team.
Learning the foundations of Christianity, how to develop their faith and understanding of the Bible and who God is, and what being a Christian really means. Our amazing Children's Director Regina Gossage will continue to step in and teach here. Do you have a heart for kids and teaching and modeling God's truth to them? Contact us about teaching 4th & 5th grades!
Fun, fellowship and a growing confidence to study the Bible in community and on your own. We will have fun together, share prayer requests – but our main goal for this hour is to learn skills that build our confidence to understand God's Word.
Our middle schoolers are led by amazing facilitators who deeply care about loving these students and helping make their faith their own. Middle School will be led by BRBC member Leanne Manzo and focus on the theme "Head to Feet." We will take principles/ideas we may already know from the Bible, and actually apply it; discover what it looks like to live it out in our everyday lives.
BRBC member Rob Cooper will teach our high schoolers and come alongside as they continue to make their faith their own. They are embarking on the year-long "Interlocked" program: how to view the world thru the Bible. Classes over the next year will help give teens a framework for their worldview in really practical and foundational areas, which will serve them throughout the rest of their lives!
Let us know if you have any questions about RIDGE Classes at Blue Ridge Bible Church.