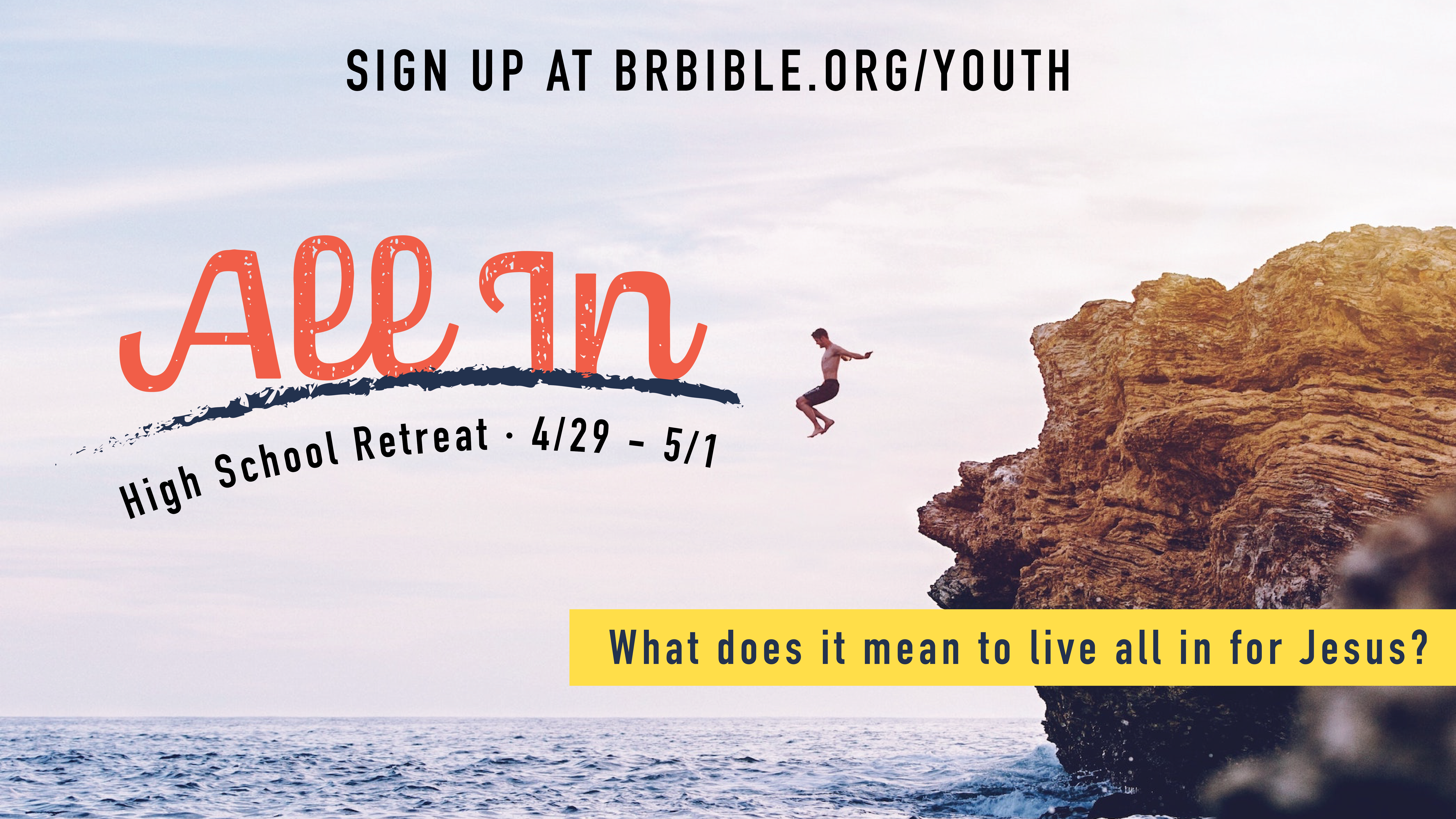 High School Retreat
ALL IN – High School retreat: LET'S Gooooo! 
Click HERE to register – Deadline to sign up is 11:59.59pm April 20. Questions? Contact Pastor David ().
Location: Blue Ridge Bible Church and Saturday afternoon we will head over to Camp Highroad in Middleburg. 
Cost: $60 – Laser tag, 4 meals and snacks, t-shirt, and high ropes activities (zip-line etc).
Dates: April 29-May 1 (signup deadline April 20!)
*****NOTE: Parents drop off at BRBC Friday at 5:00pm. Pick up Saturday evening at 7:00pm (Saturday night is spent at home).
Sunday morning May 1 – parents can bring students back to church for a wrap up session at 8:55am, and sit together in worship service 10-11am. Parents are welcome to attend RIDGE Class 9-10am and our worship service 10:15-11:15am.
Parent final pick up 11:30-12:30pm May 1 – at BRBC under the tent outside.******
---
Theme: "ALL IN" – Putting our faith in action: what it means to really trust God especially when we don't know the outcome. "ALL IN" is also having the confidence to take decisive action, to be willing to suffer loss knowing there is a greater gain to come. Being ALL IN for Jesus!
Help – Chaperones or Drivers: 
Some of the Youth Group leaders will be helping lead and chaperone over the weekend. If you would be willing to help with transportation please email me. Please email David at if you are interested in helping.
Where are we sleeping?
Students will sleep at the church Friday night. Note this is not an "all-nighter" it is an "overnighter" … meaning we will not be staying up all night. We want students to get rest because we have a FULL day Saturday.
Girls will sleep on the first floor of the church. The boys will be sleeping on the third floor (in the quad). No one will be allowed in the middle level of the church past "Lights Out" (after the movie around 11:45pm). Students need to pack a sleeping bag, pillow and deodorant. A minimum of two chaperone leaders of the same gender will be present and attentive with students on appropriate floors.
When do I pick-up my student?  
We want to have a FULL weekend, but because we are a church and not a lodge, we will need parents to pick up their kid(s) Saturday evening at 6:30pm (after we serve the kids dinner). Go home – get some rest and take a shower! And then bring them back Sunday morning at 8:59am. Our final wrap-up session is 9-10am and then we will all sit together for the Sunday worship service 10:15-11:15am!
Does my student have to stay for the whole weekend? 
We do want everyone here for ALL fun and teaching time, but we don't want scheduling conflicts to hinder participation. If you can only come for parts of the weekend – we still want you to come! Please email me with specifics if you intend to pick up and drop back off at any point other than the scheduled times:
What's cooking? (I.e. what's the plan for food?) 
We really like food! That's why we want to make sure everyone is well fed. Friday night we will be serving the FINEST Domino's pizza and veggies that you will ever eat. Saturday morning we will be graced by the Men's Breakfast crew who will dish out eggs and other breakfast goodies. Lunch on Saturday will be a cookout meal at Camp Highroad. And finally – for dinner Saturday we are going exotic (all the way from Leesburg) with Panera bread sandwiches. We will also have some delicious snacks Saturday night.
We really like food!
If you have dietary restrictions, please note on your registration form and email me at so we can make sure we accommodate you.
What should I pack? 
First off … deodorant. Believe it or not, we don't have showers at the church. Secondly … very important – something to sleep on/in. Third – clothes.
Are there really unlimited high fives? 
Yes. 
What's your favorite color? 
Orange.