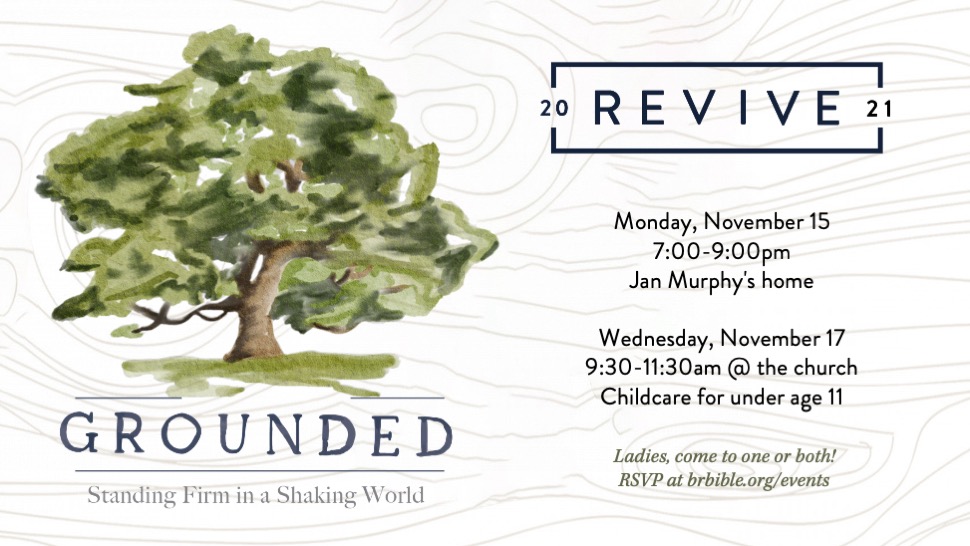 Revive Your Hearts – November Events
As promised to you when we cancelled the October 8-9 retreat, Women's Ministry Committee invites everyone to experience a taste of some of the Revive Our Hearts event that we missed by watching some of the speakers which the Committee will review prior to the events. There are two options for you to attend on different days. You are welcome to attend one or both, depending on your availability.
November 15, 7:00-9:00 p.m. (RSVP HERE)
Come for a time of fellowship and to hear speakers on our Women's Ministry 2021-22 theme of becoming more grounded in Jesus and The Word. We will have dessert and fellowship, and watch the videos together. The location will be announced based on the amount of responses we receive.
November 17, 9:30-11:30 a.m. (RSVP HERE)
This one will take place at church at the final meeting of the Fall Bible Study group, and they also will watch some of the conference videos. This is open to everyone, not just those who have been attending the Bible study. It's a potluck brunch and fellowship, with the videos. Childcare will be provided.
** RSVP by logging in and marking "yes." Coming on both dates? Please RSVP to each event date.