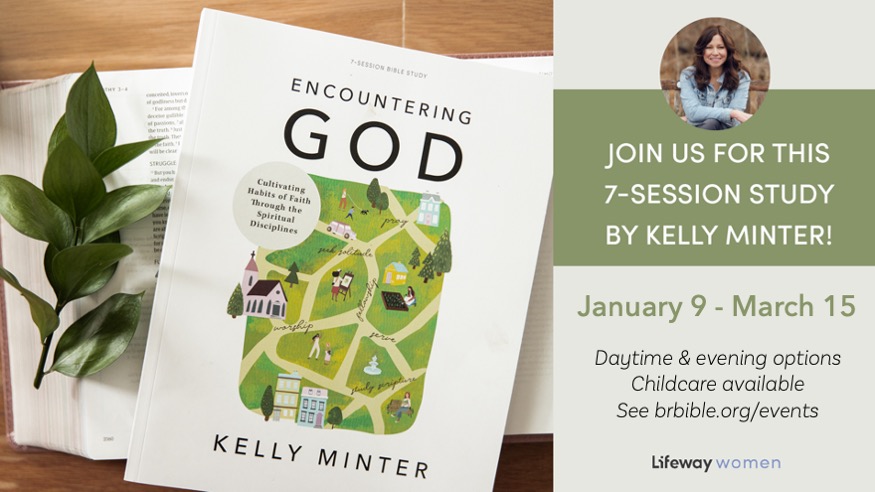 Women's Winter Bible Study
The Women's Ministry Committee invites you to join us for the winter Bible study. Continuing with our 2022-2023 theme "Imitators of God" (Ephesians 5:1-2), we will do a study by Kelly Minter called "Encountering God".
Spiritual disciplines are essential to a more vibrant spiritual life and to knowing God more intimately. Join us as Kelly unpacks the biblical foundation of developing sacred habits, along with approachable ways to practice disciplines like prayer, study, worship, rest, simplicity, generosity, celebration, and many more. Instead of being just one more thing on your to-do list, you'll find that these habits of faith can actually create more margin in your life—providing peace and rest as you walk closer with Jesus. Register HERE today!
You can purchase your book at https://smile.amazon.com/Encountering-God-Cultivating-Spiritual-Disciplines/dp/1087730414?ref_=ast_sto_dp
The study begins the week of January 9 and ends the week of March 13, with three choices to attend. Please RSVP so that we know the numbers for each group, and the leaders can contact you.
CHOICE #1 – Monday evenings at the church at 7:00 p.m. No childcare. 
CHOICE #2 – Wednesday mornings at the church at 9:30 a.m. Childcare provided.
CHOICE #3 – Wednesday evenings in Purcellville at 7:00 p.m. No childcare.
Register HERE today!