Update (4/2/2020):
Pastor Jack … Unplugged 
Weekly encouragement and game plan from Pastor Jack, watch here >> https://youtu.be/wcby7dotW8A
This Sunday is Palm Sunday, which launches us into the week leading to Easter. We're excited to come together next week–while being separate–in several special ways as a church family. Watch Jack's video for more!
And plan to join us on Easter Sunday, April 12, for our online worship service and a special time together celebrating Jesus, our risen Savior!
Past updates >> HERE
What's happening the week of April 5: 
All in-person services and events cancelled until further notice. 
Online services are posted on our homepage

HERE

 each Sunday
Life Groups are meeting virtually and staying in touch. Need to join a Life Group? EMAIL the church office

Ladies Bible study meets via Zoom, info

HERE

(thru 4/5)

Youth Group – see Pastor David's videos on YouTube HERE 
Suggestions for ways to care
Consider thoughtful, loving, and safe ways to care for those around you. Work with your Life group or other small group to share ideas! 
Check in on at-risk neighbors, particularly those who are elderly. Offer to share or get groceries as possible. Offer to pray.

Tree of Life Ministries has been approved as Essential/Emergency Services to our community — help provide care through TOL by volunteering, giving financially, or donating food to the pantry. (See all details by clicking flyer.)
aaaaaaaaaaaaaaaaaaaaaaaaaaaaaaaaaaaaaaaaaaaaa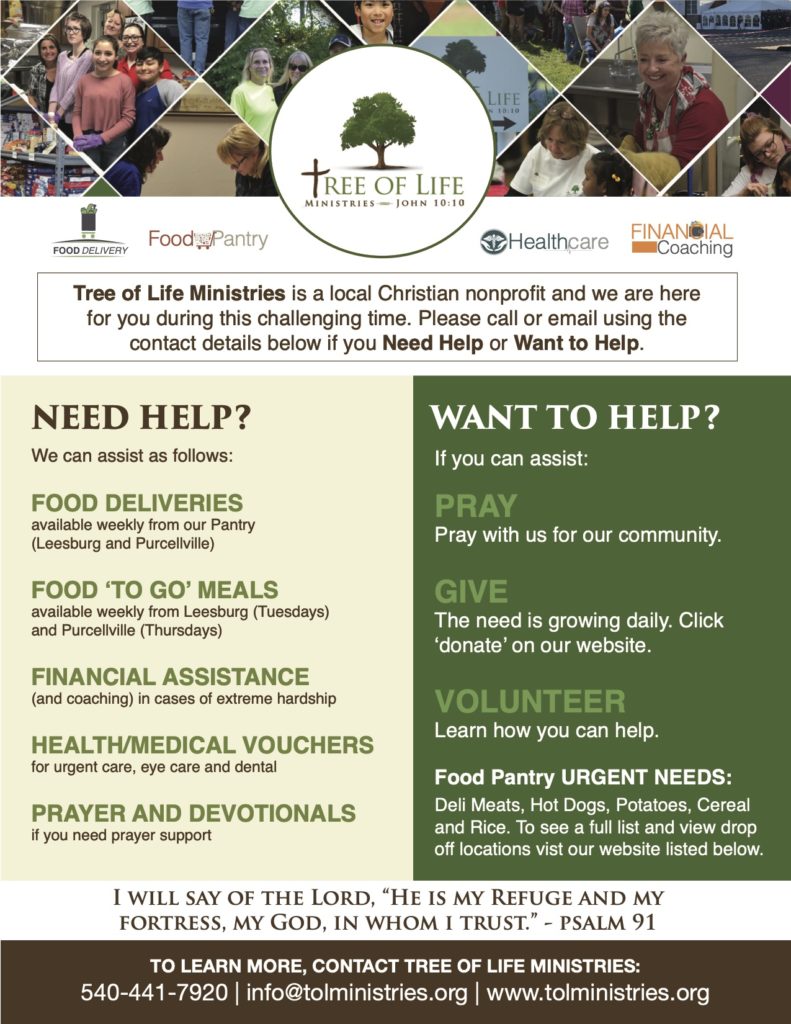 Support at-risk children/foster families in Western Loudoun in prayer and in tangible ways HERE.
Pray intentionally for health care workers, first responders, and others serving our communities. Consider mailing them a note of encouragement! (Suggestions: your local family practice, Purcellville Fire & Rescue, Purcellville Police Department.) READ this article for inspiration.
More resources
Community resources >>